OFFLINE

Female
24 years old
weslaco, Texas
United States



[ 239 ]
MY DETAILS
| | |
| --- | --- |
| MEMBER SINCE: | Dec 12 2006, 12:33 am |
| | |
| --- | --- |
| LAST LOGIN: | Jun 25 2007, 8:36 pm |
Movies
fight club, donnie darko, slc punk, ghost world, welcome to the dollhouse, girl interrupted, rushmore, the royal tennenbaums,RENT.
Books
kurt vonnegut, ayn rand, ray bradbury, franz kafka, jean paul sartre, simone de beauvoire, oscar wilde, charles bukowski, allen ginsberg, baudelaire, margaret atwood etc. etc.
About Yourself
no matter what i would do in attempt to replace
all the pills that i take trying to balance my brain
i see the curious girl with that look on her face
so surprised as she stares out from her
display case.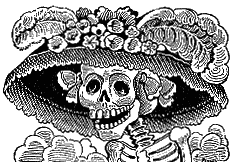 si vivimos para siempre, nuestra vida no tendria proposito
Likes
animals, activism, hugs, smiles, genuine people, music,all around fun, atheism, literature, sunshine, green grass,warm socks,peanut butter,my culture, messiness, comfy chairs, hot chocolate, my mother's arms, a cigarette on a cold morning, smoking a jay with my shoes off, laying in soft grass, afternoons in mexico,dia de los muertos,unicorns, RENT, Avenue Q, musical theatre, acting, dance, drugs
Dislikes
cruelty, mean people, stares, public bathrooms, stress, anguish, addictions, school, horses, guns,being lied too, being ditched, bitches, pretentiousness, homophobia, indifference, apathy, drugs
Hobbies
reading, sewing, writing prose, writing music, making art, having fun, theatre, dance, sleeping.
MY FRIENDS
ohprettybaby has 29 friend(s)